Burton Brothers was one of New Zealand's most important nineteenth-century. Alfred Henry Burton (1834–1914) and Walter John Burton (1836–1880) were born in Leicester, England.  Their father, John Burton, was a prominent photographer in the region.  His firm, John Burton and Sons, was patronised by Queen Victoria and other members of the Royal Family.
In 1866 Walter Burton immigrated to Dunedin where he set up a successful photographic studio. But photography in the 1860s was a time-consuming process and there was more work than he could cope with, therefore, in 1868, he persuaded his older brother, Alfred, to join him, and the brothers became partners in the Grand Photographic Saloon and Gallery in Princes Street, Dunedin.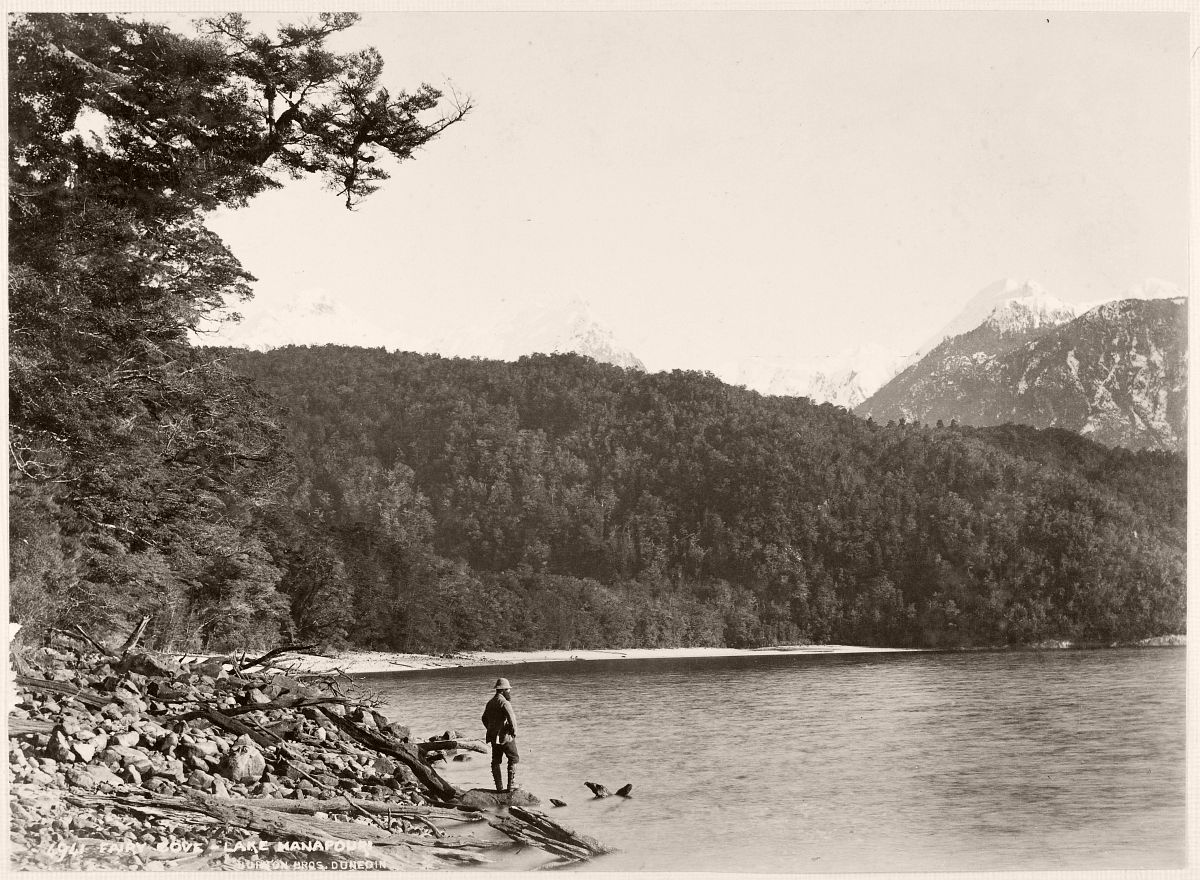 While Walter concentrated on portraits, Alfred travelled extensively, making frequent trips to Fiordland, the Southern Lakes and South Westland. His Views of Fiordland helped to convince authorities to have the area set aside as a national park.
However, scenic photography in the 1860s had its problems. The roads were poor, and travelling on horseback made crossing rivers hazardous, and risked damaging the heavy photographic equipment.  In 1869 the Burton Brothers commissioned a photographic van to be built.  It had a collapsible roof which could be lowered for travelling. It functioned as mobile darkroom which meant that the brothers did not have to waste time pitching a dark tent to develop their photographs.
About this time Burtons also produced an inventive photo montage, a sort of photographic CV, to advertise the firm.  It included 780 portraits and has been described as 'one of the most enterprising commercial collages produced anywhere' . It included portraits of James Cook, Queen Victoria, Julius Vogel, and many other notable personalities of the time.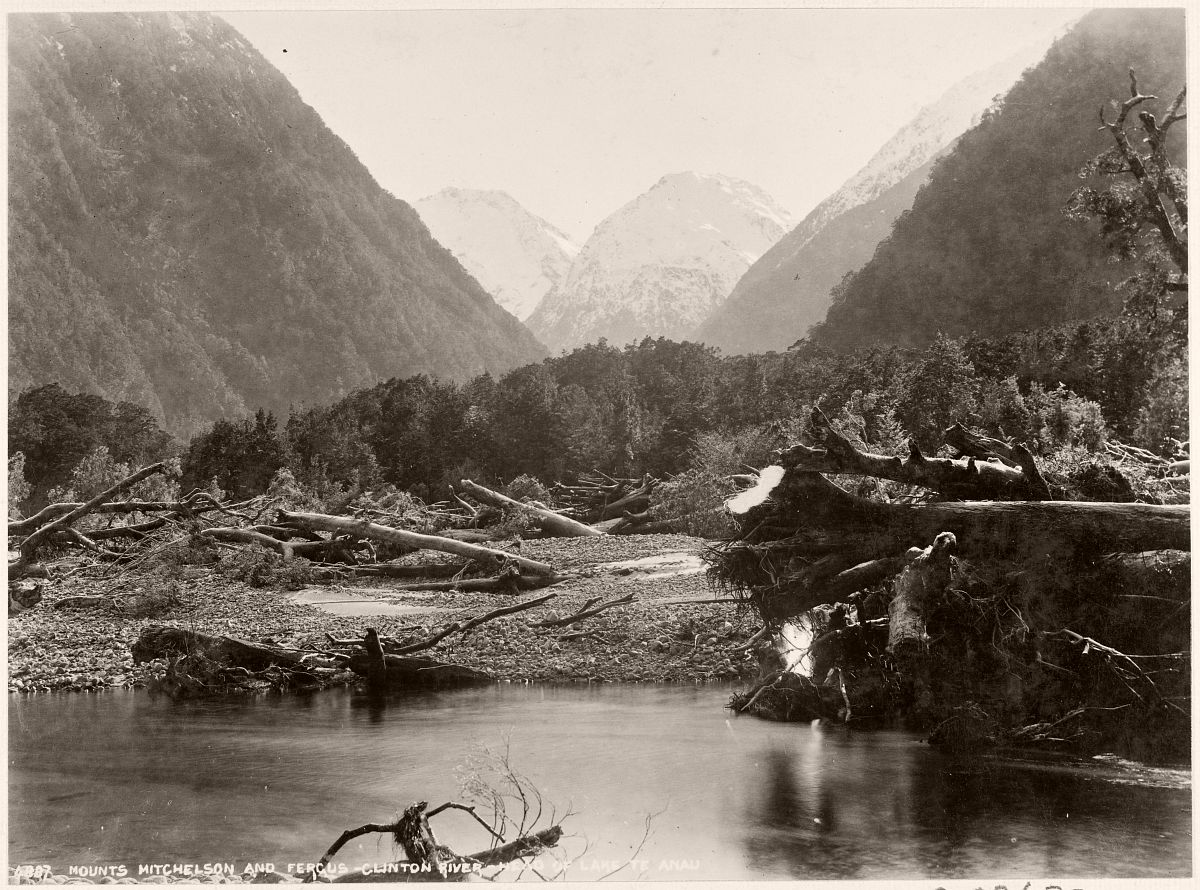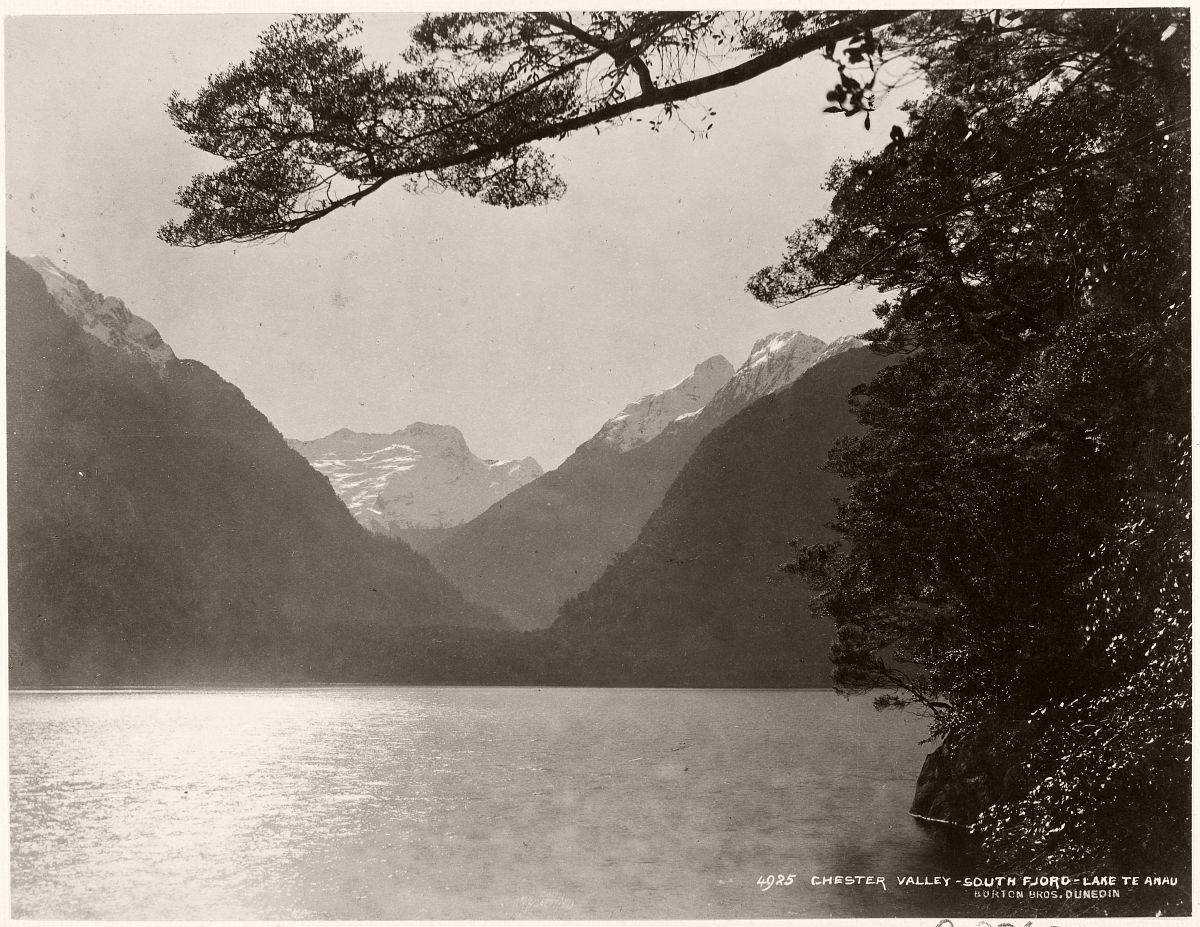 Despite their initial success, in 1877 Alfred and Walter's partnership came to an acrimonious end. Walter visited Europe to acquaint himself with new photographic developments while Alfred took over the firm, employing other talented photographers such as George Moodie and Thomas Muir. The following year Walter returned to Dunedin and opened his own portrait studio. Though a fine portrait photographer, Walter often kept his customers waiting, bungled photos so that they had to be re-shot, and frequently lost his temper. He was also a heavy drinker. The business declined and in 1880, aged forty-four, he committed suicide. It is thought that he swallowed a lethal dose of potassium cyanide, a chemical used in the photographic process.
In 1884 Alfred travelled to the Pacific Islands, including Samoa, Fiji, and Tonga. Here he photographed local people and scenes of village life including 'Studies of tropical foliage, with peeps of the harbour; groups of men, women, and 'pickaninnies' and other groups of passengers, with the prettiest and shapeliest native girls they could find and persuade to be "posed"'. The next year Alfred made his now famous journey to the King Country, which resulted in his now famous Through the King Country with a camera: a photographers diary. These remarkable photographs were taken soon after the New Zealand Wars, and before Māori became used to being photographed. However, Alfred managed to make his subjects overcome their timidity in front of the camera which they believed was a taipo, or devil.
In 1886, Mt. Tarawera erupted, causing loss of life and burying the famous Pink and White Terraces and other attractions. Alfred visited the sites and rephotographed regions he had previously photographed before the eruption. 
Alfred Burton continued to travel throughout New Zealand in the 1880s and the fame of the Burton Brothers firm is due largely to the photographs Alfred and his associates took during this decade. As the Burton Brothers' reputation grew, there was a worldwide demand for prints of their work.
Alfred retired from photography in 1898. Three years later his only son, Henry, once a photographer for the firm, was killed when he fell from a horse. Alfred never touched a camera again, but devoted himself to amateur dramatics which he loved. He died in 1914.
Thomas Muir and George Moodie continued to run the Burton Brothers firm, prospering from the enormous postcard boom of the early 1900s. The firm eventually closed in 1916, bringing to an end an historic era. The Burton Brothers pioneered a tradition of documentary photography in New Zealand that has continued to the present day through the work of photographers such as Brian Brake and Ans Westra.
Te Papa has an extensive Burton Brothers collection which originated from two purchases: the first, of negatives and prints, was purchased in 1943 from the Dunedin firm of Coulls, Somerville and Wilkie Ltd; the second, of cameras and photographic equipment used by the Burton Brothers, was purchased in 1991 from photographer and historian Hardwicke Knight. The valuable glass plate negatives have required extensive photographic conservation to prevent further deterioration.