'I have no greater artistic pretentions, but if something in my photography turns out to be useful, it will be that it is a chronic of my country, of my time, of my people.. things about Mexico that you won't see anymore' – Lola Álvarez Bravo
Lola Álvarez Bravo  was the first Mexican female photographer and a key figure in the post-revolution Mexican renaissance.
She was born in April 1903 in Lagos de Moreno, Jalisco, Mexico. Her parents appear to have separated when she was very young. At the age of three years, her father took Martínez and her older half-brother, Miguel, to live in Mexico City in a large 28-room mansion. One of her brother's friends who lived nearby, Manuel Álvarez Bravo, was a frequent visitor at their home on Calle de Factor (now Calle de Allende).
Her died of a heart attack in 1916, while they were traveling on a train. With his death, she moved from their home to live with her brother and his wife in an apartment on Calle de Santa Teresa. Keen to ensure she would become a responsible wife and homemaker, Miguel's wife sent her to complete a traditional education at the Colegio del Sagrado Corazón.
Unhappy with her options, she wanted more, saying, "I don't know why since childhood, I had the idea that I wanted to do something not everybody did. What I've hated most about my life is that they order me around and they limit my freedom". She went on to further her education at the Escuela Nacional Preparatoria, meeting Frida Kahlo there in 1922. The two women formed a close, lifelong friendship. In parallel, her relationship with her childhood friend Manuel Álvarez, burgeoned into romance. The couple often roamed the streets together observing the beauty beneath the city's grime and poverty.
In 1925, Martínez and Álvarez married and she took his name. They moved to Oaxaca, where Manuel found work as an accountant for the National Accounting Office, engaging in the local artists' community. In their free time, Manuel, who had learned photography as a teenager, taught his wife how to use a camera and develop film.  As they had in Mexico City, the couple would wander the streets, but now began documenting their walks in photographs.  Álvarez produced her first photographs in Oaxaca,  which mirrored the allegoric style preferred by her husband. When she became pregnant, the couple decided to move back to Mexico City in 1927 to be near medical facilities and family. It was there their only child, Manuel Álvarez Bravo Martínez was born. Though Manuel was still working for the National Accounting Office, soon after his son, Manuelito's birth, he resigned to pursue a career as a professional photographer. As she developed her own vision and became discontented with simply processing her husband's film, tensions in the marriage began to surface.
In 1927, the couple opened an opening an art gallery in their home where they exhibited photographs and paintings created by their artistic friends, including David Alfaro Siqueiros, José Clemente Orozco, Diego Rivera, and Rufino Tamayo.
Manuel began by taking commissions for portraits and Álvarez assisted him while raising their son. She was relegated to minor tasks, like mixing chemicals and printing. Her husband was reluctant to allow Álvarez time with the camera, but she did recommend thematic ideas to him and learned the craft.
At a time when most newspaper photographers were interested in producing sensational images, she was taught to distance herself from her subjects to capture their underlying essence. She also studied the paintings their artist friends presented in the gallery, learning about composition. In 1930, she obtained her own camera, when Tina Modotti sold Álvarez her Graflex, to raise money for her departure from the country after Modotti's lover Julio Antonio Mella was murdered. When Manuel became seriously ill in 1931, she completed his commissions and managed the gallery to sustain their livelihood.
Álvarez met Paul Strand in 1937 and recognized in his style a photo-documentary aspect that appealed to her more than her husband's stylized photographs. She realised that photography was a chronicle of history, documenting the transformation of society. She called the camera a "third eye", which elicited the truth of the photographer's experience. One of her early works from this period is titled La Visitación (The Visitation) and was taken on an excursion with Manuel and the French photographer Henri Cartier-Bresson. They travelled to the Isthmus of Tehuantepec and Álvarez's image of two women standing in a doorway, captured the solace offered by the subjects to each other. Rather than the posed compositions favoured by her husband or the ideologically motivated portraits taken by Modotti,  Álvarez's image focused on the subtle meanings of everyday life captured by the camera.
In 1934, she joined the newly formed Liga de Escritores y Artistas Revolucionarios (League of Revolutionary Writers and Artists) and, along with Manuel and Emilio Amero, formed one of the earliest cinema screening clubs in Mexico. As her own style and desire to have her own voice emerged, tensions between the couple worsened and in 1934, she took her son and separated from Manuel, though they did not divorce until 1948. At the time of their separation, she had established herself as a professional photographer. Having secured work with several local magazines, she retained the Álvarez Bravo name professionally.
Lola Álvarez Bravo was known for her high level of skill in composition, her works were seen by her peers as fine art. She was recognised in 1964 with the Premio José Clemente Orozco (José Clemente Orozco Prize), by the State of Jalisco, for her contributions to photography and her efforts to preserve the culture of Mexico. Her works are included in the permanent collections of international museums, including the Museum of Modern Art in New York City.
Álvarez exclusively employed black and white film for her pictures as a means of allowing fuller development between monochrome contrasts. Colour did not suit her documentary style of composition. As a photojournalist, Álvarez focused on candid revelations, seeking to impart the social meaning, without duplicating other photographers' work.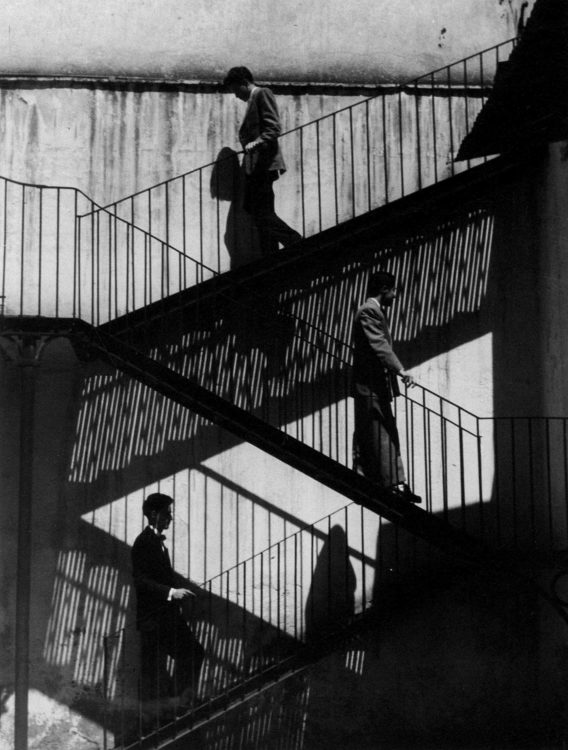 For example, in one assignment where she went to Papantla, in Veracruz, to shoot the Danza de los Voladores, she ignored the dancers photographed by others, instead taking pictures of pilgrims coming to attend the ritual, the processional entrance of the sacred pole, and an animal sacrifice. The distance between herself and the subject candidly captures them in a manner that intimately captures their experience without judgment. Her preference was to avoid "the news", instead documenting her surroundings in their historical context. In her advertising work, Álvarez used chiaroscuro techniques to highlight aspects of the products, as if they were still life paintings.
Many of Álvarez's works were grouped into specific themes, which she returned to time and again. They included representations of indigenous and peasant women, mothers, children, women of varying social classes as well as the women involved as avant-garde participants in the Mexican muralism and intellectual renaissance movement of the interwar period. Besides the images of her friend Frida Kahlo, for whom she was known internationally later in her career, are portraits of artists, such as Lilia Carrillo, Olga Costa, Marion Greenwood, María Izquierdo, Alice Rahon, and Cordelia Urueta; cultural preservationists, including Pita Amor, Anita Brenner, and Judith Martínez Ortega; and writers, such as Rosario Castellanos, and Elena Poniatowska.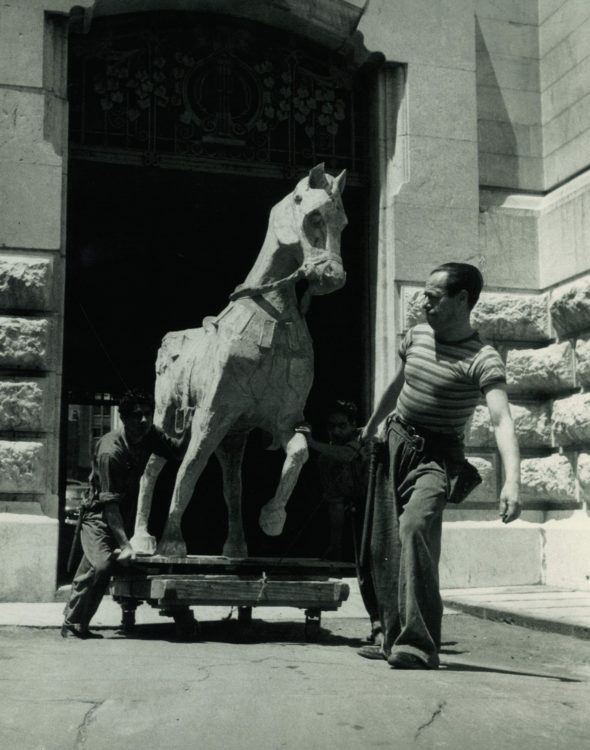 She also created a series of nude portraits, which were unique in their depiction of women as "alegorías de la condición femenina en el contexto de la sociedad patriarchal mexicana (allegories of the female condition in the context of Mexican patriarchal society)". These included her nude image of the dancer Maudelle Bass, and the heavily-pregnant artist Julia López. Her street photography focused on people's daily lives as she strove to expose beauty, as well as the misery, and the irony of the human condition. Her work displayed an instant in time and did not have any symbolic or underlying meaning but instead was a way of preserving a moment in life.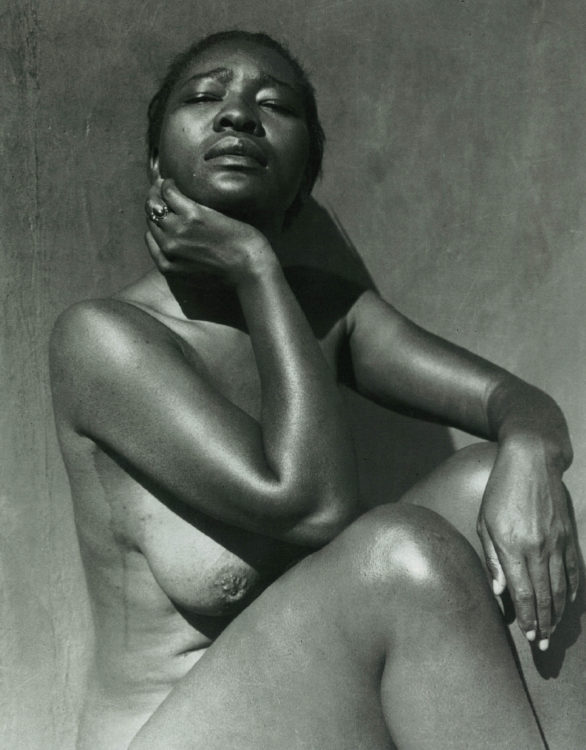 Álvarez's photography focused on documenting Mexico and its people during her lifetime, with a humanistic perspective. Her images document the industrialisation of the country which occurred after the Mexican Revolution as well as the effects of 20th century technology. Typical are her photographs of indigenous women, like Un descanso, llanto e indiferencia (A Rest, Weeping and Indifference), from 1940, which portrays the exploitation and lonely suffering of its subject, or El sueño de los pobres 2 (The Dream of the Poor, 2), in which a young boy lies sleeping amidst a collection of sandals. Álvarez noted that only the wealthy could dream of sweets, as young, poor Mexicans dreamed only of having shoes.
Many of her works explore the intersections of light and shade, which she employed repeatedly as a metaphor in her works. In "Unos suben y otros bajan" (Some Go Up and Others Go Down), she used contrast to demonstrate mechanical patterns. In her 1950 work "En su propia cárcel" (In Her Own Prison), she used the cross-hatched shadows as an allegory for prison bars, trapping the young woman who leaned on a windowsill.  In both "Tríptico del martirio" (Tryptych of Martyrdom, 1949),  a series of photographs of prostitutes, and an untitled photograph of a masked gay rights activist (1982), Álvarez used the play of light and shadow to suggest erotic tension, as well as a social critique by obscuring the faces in darkness.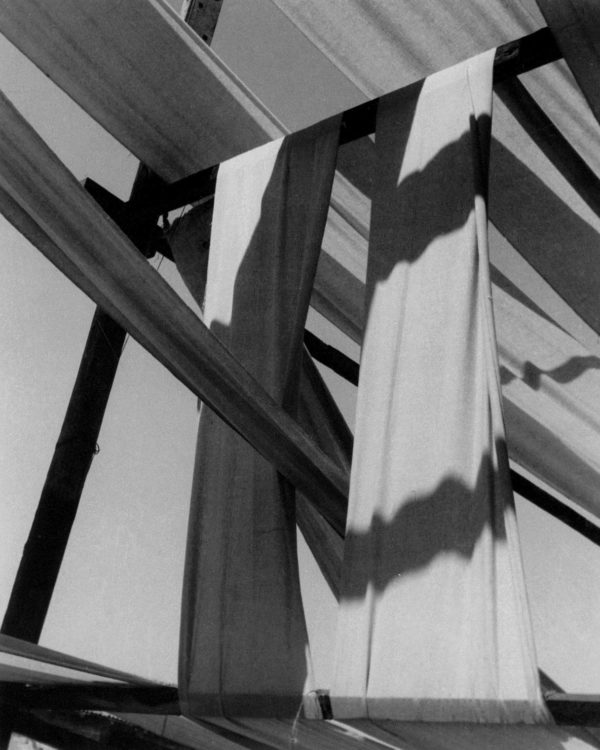 One of Lola Álvarez Bravo's photographs that encapsulates her recurring theme of motherhood in Mexico is her striking photo De Generación en generación (Generation to Generation, ca. 1950), a gelatin silver print. The photograph features an indigenous woman who is holding her stoic daughter while her back faces the camera, revealing the intricate details of her braid, and Álvarez Bravo's signature way of capturing the light that plays on the body of the mother. The unsmiling face of the baby along with the traditional garb that the mother is wearing, depict the unique niche of Álvarez Bravo's work that focused on the hard lives of the indigenous people of Mexico, and attempted to relay the raw reality of their lives to the viewers. This documentation of the indigenous and cultural traditions of Mexico is something that tied in with the larger art movement that swept throughout the country during the post-revolutionary period, emphasizing identities of Mexicans, and in essence what it means to be Mexican.
In 1935, she moved into the home of María Izquierdo, near the National Institute of Fine Arts, Álvarez began working as an elementary school art teacher. Maria's house became a haven for intellectuals, artists, and politicians to meet and participate in the formation of the Mexican cultural identity that defined the post revolutionary era. She also took assignments from magazines like Avance, Espacio, Futuro, Vea, and Voz, quickly earning a reputation as a skilled photojournalist.
She participated in her first group exhibition in 1935, displaying two Surrealist collages at the Department of Fine Arts in Guadalajara. That year, she took a position at the Department of Education cataloguing photographs. She met Lázaro Cárdenas, at the time the Minister of Education (and later President of Mexico), by chance and was asked to photograph him. Appreciating her work, Cárdenas showed her photographs to other influential people, which landed her an offer to contribute to the El Maestro Rural (The Rural Teacher), an influential pedagogical magazine for young teachers. Working her way up the ladder, she became a staff photographer at El Maestro Rural and eventually became the journal's chief photographer. Her first major commission was in 1936 from the San Agustin church to record biblical scenes.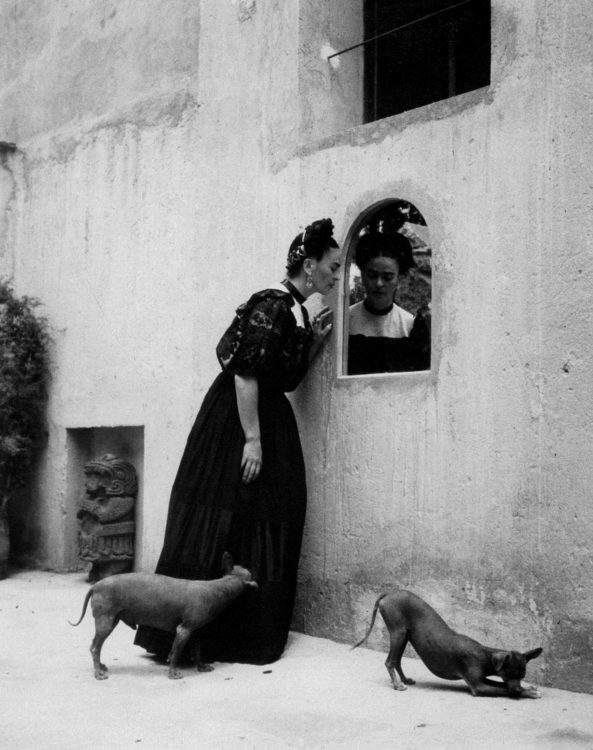 In 1937 Álvarez began working as a photographer at the Universidad Nacional Autónoma de México (UNAM) in the Institute of Aesthetic Research. She took photographs to document archaeological sites, visiting various regions of the country. Five years later she was appointed head of the photography department of the Dirección General de Educación Extraescolar y Estética, where she remained for the next 30 years.
She taught photography classes, led workshops and curated traveling presentations. Simultaneously, Álvarez continued her work as a photojournalist, becoming the only woman to work in the field throughout the 1950s. She photographed factories, farms, fire stations, schools, hospitals, and orphanages throughout Mexico to accompany magazine articles and undertook assignments in advertising and fashion photography. In her spare time, she made portraits of friends and colleagues, as well as their works.
Álvarez is represented in the work of the Mexican Surrealist artist, Juan Soriano in his Retrato de Lola Álvarez con Juan Soriano Niño Soriano. Considered one of Soriano's best works, Álvarez is depicted as both the photographer and the protective figure watching over the young Soriano against the large window overlooking a dreamlike sky dominated by a whirlwind of reds and blues.
She also experimented with techniques such as photomontage, when a single photograph could not adequately depict her message. In one such image, "Anarquía arquitectónica de la ciudad de México" (Architectural Anarchy of Mexico City), she overlapped photographs of skyscrapers to show the overcrowding caused by urbanisation. In another piece titled, El sueño de los pobres (The Dream of the Poor), a sleeping child lies unaware under a money-making machine as a political statement concerning the impact of capitalism on the poor. The original photograph would later be displayed in El sueño de los pobres 2 (The Dream of the Poor 2). Álvarez would come back to this medium the late forties and fifties in the form of large posters commissioned by several business and institutions that began with various covers for El Maestro Rural in the thirties. In 1939 she moved into her own apartment in an Art Deco Building on Avenida Juarez but at the time she did not think of herself as an artist even with all her past accomplishments.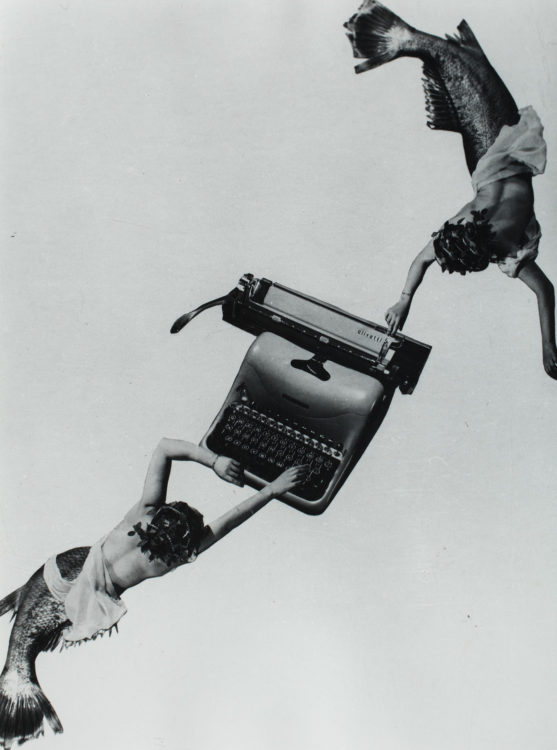 Álvarez held her first solo art exhibition in 1944, at the Palacio de Bellas Artes and simultaneously curated Pintores Jaliscienses (Painters of Jalisco), also shown at the Palacio to promote the work of artists from that state. This initial show was followed by many solo and group presentations. In 1950, she rented a garage and converted it into a gallery with a sculpture garden. It officially opened the following October, as the Galeria de Arte Contemporáneo (Gallery of Contemporary Art). It was in this gallery in 1953, that Álvarez presented the only solo showing of Frida Kahlo's work in Mexico held while the artist was living. It was also in 1953 that Álvarez became the first woman photographer to present her work at the Salón de la Plástica Mexicana with the exhibit México en la Vida, en la Danza, en la Muerte (Mexico in Life, Dance, Death) and was accepted as a member of the salon. She also featured the works of Isabel Villaseñor in the Galeria de Arte Contemporáneo in 1954 in memory of the artist's death the previous year. Álvarez helped attend one of her closest friend's, Frida Kahlo, body after her death in the summer of 1954. In 1955, her "Entierro de Yalalag" (Burial in Yalalag), taken in 1946, was included in Museum of Modern Art's The Family of Man presentation in Manhattan. The exhibition subsequently toured 37 countries over the next eight years.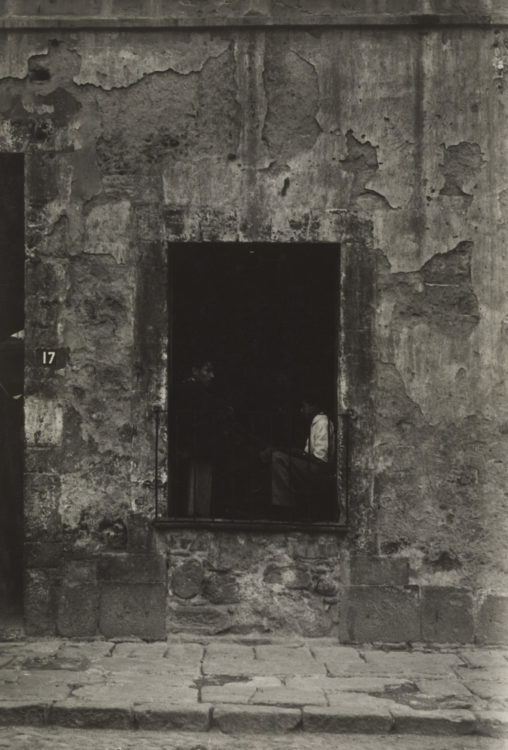 Because of financial constraints, Álvarez closed the Galeria de Arte Contemporáneo in 1958. Then for a while, she stopped taking photographs after a heart attack in 1961. In 1964, she received the Premio José Clemente Orozco (José Clemente Orozco Prize), a commemorative plaque given by the State of Jalisco, for her contributions to photography and her interest in cultural preservation. She sold to the federal government over 2,500 negatives of her work and organised a presentation of her portraits at the Palacio de Bellas Artes in Mexico City in 1965. This exhibit at the Palacio de Bellas Artes was her first individual exhibition, which was entitled "Galería de mexicanos. 100 photos by Lola Álvarez Bravo. For a majority of her career she had a passion for film and was influenced by cinematic techniques. Álvarez dreamed of making films but ultimately had limited success in the field.
After her retirement in 1971 from the National Institute for Fine Arts, Álvarez continued to take photographs until she became blind at age 79 in 1986. The 1965 exhibition was the last showing of Álvarez's work until the mid-1970s, when the Ministry of Education approached her to create an exhibition, sending her back to the darkroom, where she began organizing her archives.
In 1979, the first retrospective of her work was held in Mexico City at the Alianza Francesa de Polanco. From the 1980s, she began to be recognised internationally with many exhibitions showing renewed interest in her work. In 1982, she published two compilations of her photographs, Escritores y Artistas de Mexico, focused upon her portraiture and Recuento fotográfico, an anthology.
Álvarez's apartment in Colonia Tabacalera, where she had lived since 1939, was destroyed in the 1985 Mexico City earthquake and she was forced to evacuate with few belongings. With her health declining, she left her apartment in the care of a neighbour, Clementina Rivera Vallejo, and moved in with her son.
 In 1991, an exhibition organised in Dallas, Texas, by the Society of Friends of Mexican Culture, highlighted Álvarez's intimate portraits of Kahlo, expanding her international acclaim as it travelled to other cities such as Albuquerque, New Mexico, and Washington, D.C. The Fundación Cultural Televisa celebrated her 50-year career in photography in 1992, hosting a show in Mexico City spanning her trajectory. She made a statement late in life of her perception of her legacy: "If my photographs have any meaning, it's that they stand for a Mexico that once existed". Although separated from her husband, she praised him for his work and called him "the founder of modern photography in Mexico." She also felt as though she owned her ex-husband "a creative debt".