The question 'is this a work of art or not?' is not very interesting for us. – Becher
Bernhard "Bernd" Bernd and Hilla Becher were German artists working as a collaborative duo. They are best known for their extensive series of photographic images, or typologies, of industrial buildings and structures.
Hilla Becher was a German artist born in 1931 in Postdam. Prior to Hilla's time studying photography at the Kunstakademie Düsseldorf from 1958 to 1961, she had completed an apprenticeship as a photographer in her native Potsdam.
Bernd Becher was also born in Siegen. He studied painting at the Staatliche Akademie der Bildenden Künste Stuttgart from 1953 to 1956, then typography under Karl Rössing at the Kunstakademie Düsseldorf from 1959 to 1961. They began collaborating together in 1959 after meeting as students at the Kunstakademie Düsseldorf in 1957.
Bernd and Hilla Becher first collaborated on photographing and documenting the disappearing German industrial architecture in 1959. The Ruhr Valley, where Becher's family had worked in the steel and mining industries, was their initial focus. They were fascinated by the similar shapes in which certain buildings were designed. After collating thousands of pictures of individual structures, they noticed that the various edifices – of cooling towers, gas tanks and coal bunkers, for instance – shared many distinctive formal qualities. In addition, they were intrigued by the fact that so many of these industrial buildings seemed to have been built with a great deal of attention toward design. After two years collaborating together, they married.
To create these works, the artists traveled to large mines and steel mills, and systematically photographed the major structures, such as the winding towers that haul coal and iron ore to the surface and the blast furnaces that transform the ore into metal. The rigorous frontality of the individual images gives them the simplicity of diagrams, while their density of detail offers encyclopedic richness. At each site the Bechers also created overall landscape views of the entire plant, which set the structures in their context and show how they relate to each other. The typologies emulate the clarity of an engineer's drawing, while the landscapes evoke the experience of a particular place. The exhibition presents these two formats together; because they lie at the polar extremes of photographic description, each underscores the creative potential of the other.The question 'is this a work of art or not?' is not very interesting for us.
In drawing attention to the cultural dimension of industrial architecture, their work also highlighted the need for preservation of these buildings. On the couple's initiative the Zollern II/IV Colliery at Dortmund-Bovinghausen in the Ruhr, a historicism structure with the exception of the machine hall (Art Nouveau), was designated a protected landmark.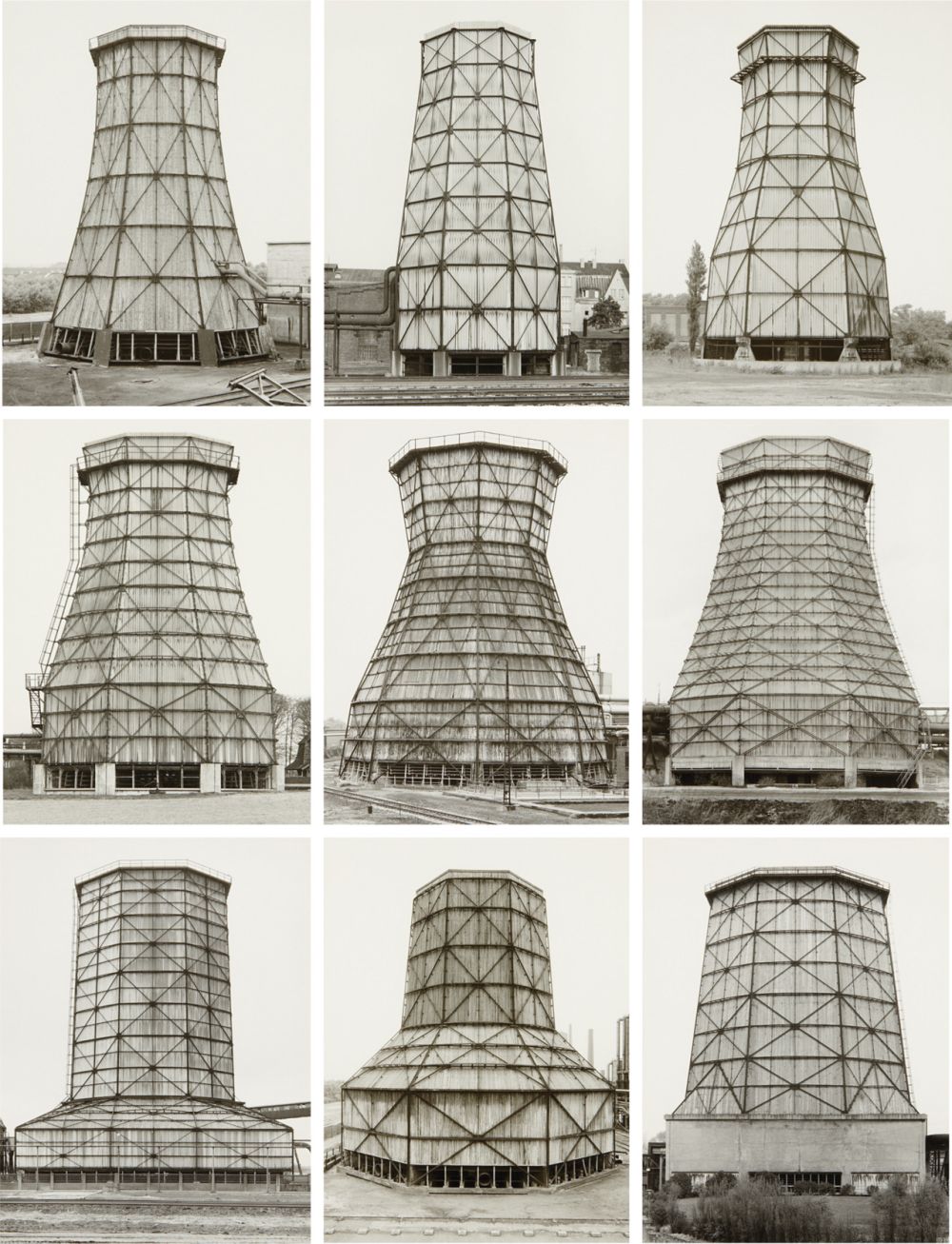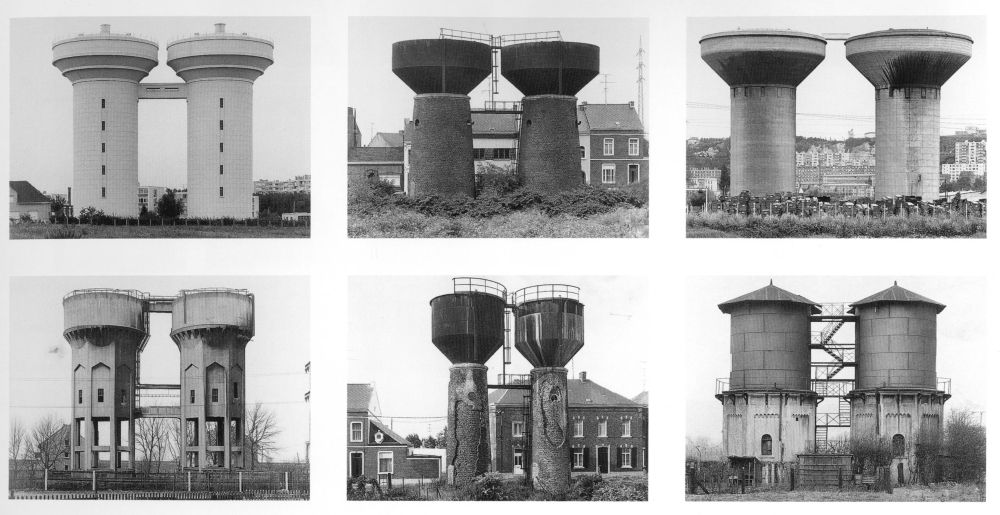 By the mid-1960s the Bechers had settled on a preferred presentational mode: the images of structures with similar functions are then displayed side by side to invite viewers to compare their forms and designs based on function, regional idiosyncrasies, or the age of the structures.
The Bechers exhibited and published their single-image gelatin silver prints, grouped by subject, in a grid of six, nine, or fifteen. They used the term "typology" to describe these ordered sets of photographs. The works' titles are pithy and captions note only time and location. In 1989–91, for an exhibition at the Dia Art Foundation in New York, the Bechers introduced a second format into their oeuvre: single images that are larger in size — twenty-four by twenty inches — and presented individually, rather than as gridded tableaux.
They are well known for presenting their images in grid formations.  The Bechers called the subjects of their photographs 'anonymous sculptures', and they produced a successful photobook of the same title in 1970.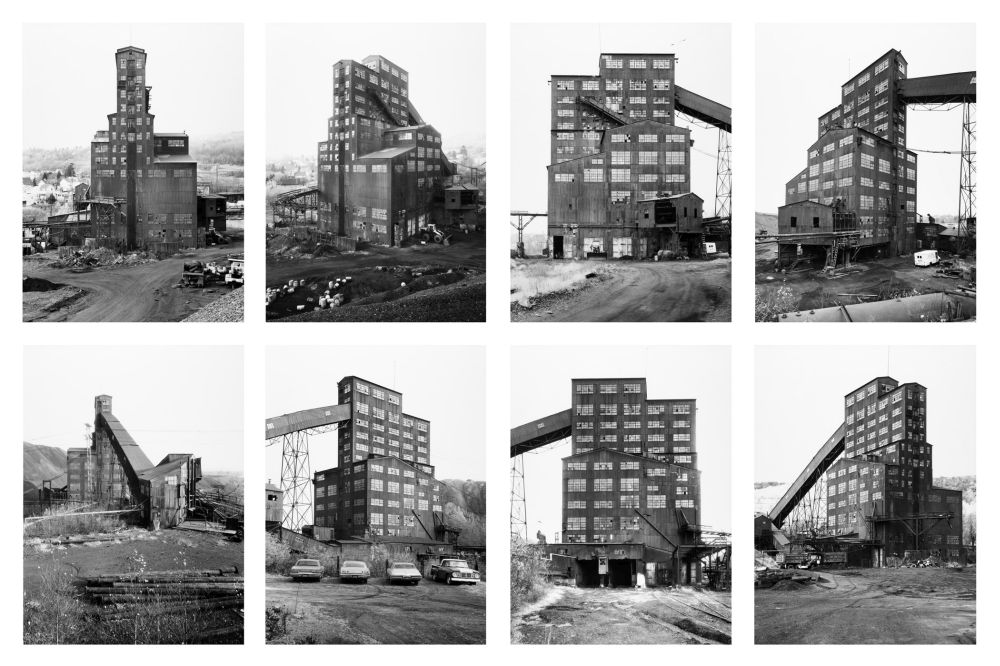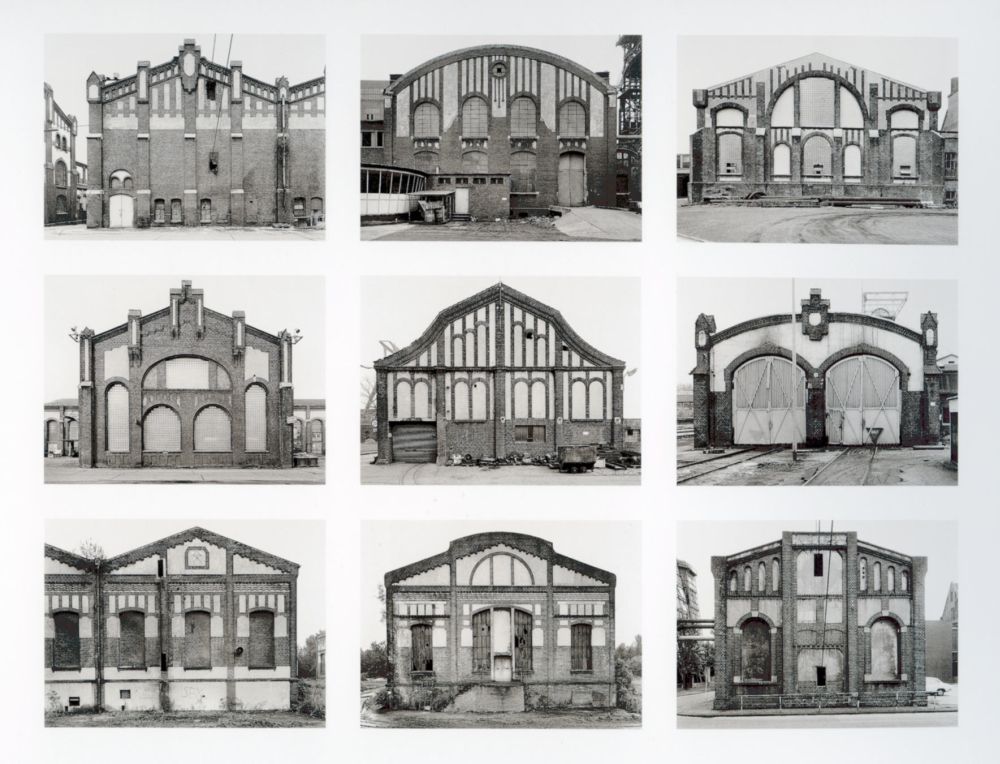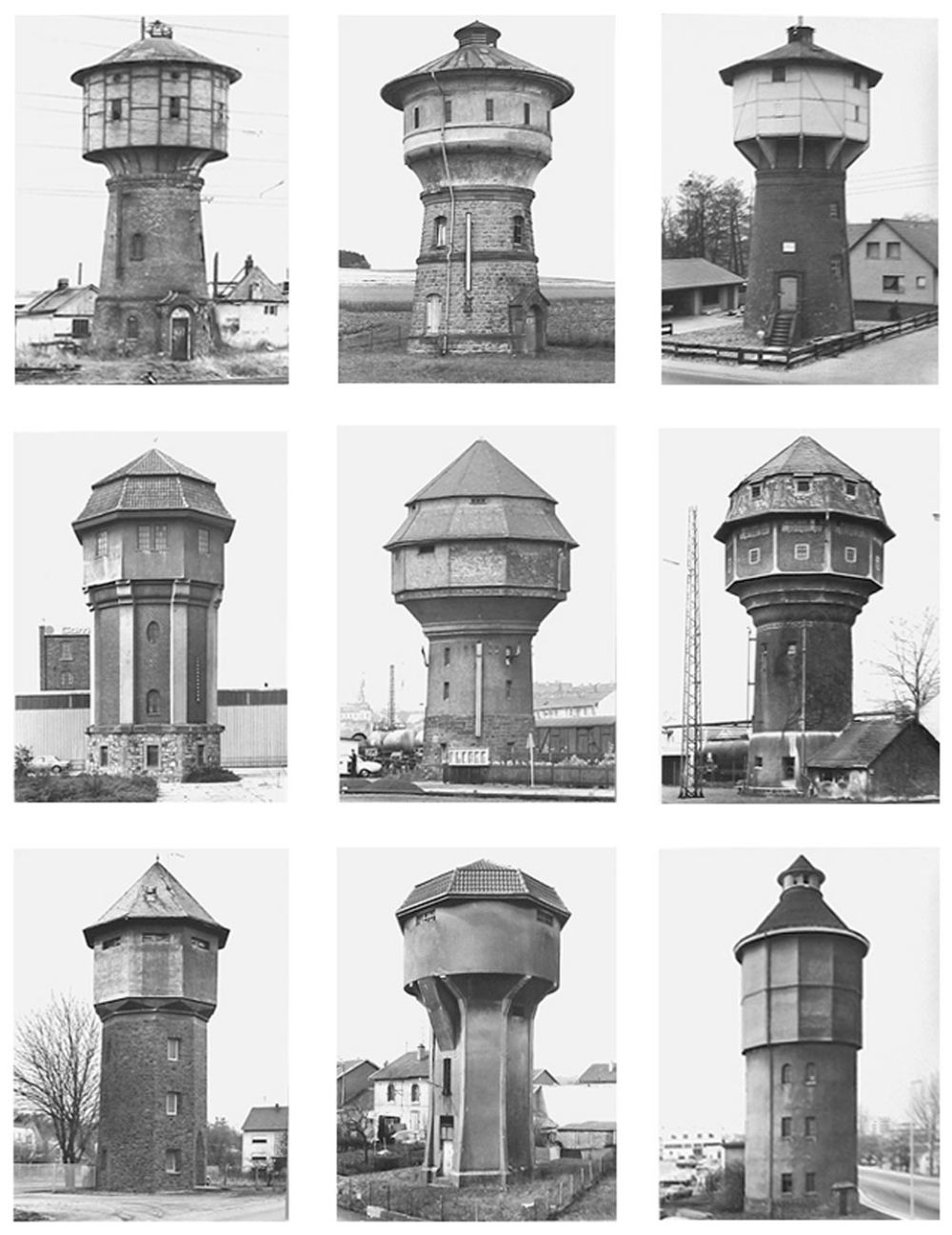 The Bechers also photographed outside Germany, including from 1965 buildings in Great Britain, France, Belgium and later in the United States. In 1966, they undertook a six-month journey through England and south Wales, taking hundreds of photographs of the coal industry around Liverpool, Manchester, Sheffield, Nottingham and the Rhondda Valley.
In 1974, they traveled to North America for the first time, touring sites in New Jersey, Michigan, Pennsylvania, and southern Ontario, depicting a range of industrial structures, from coal breakers to wooden winding towers.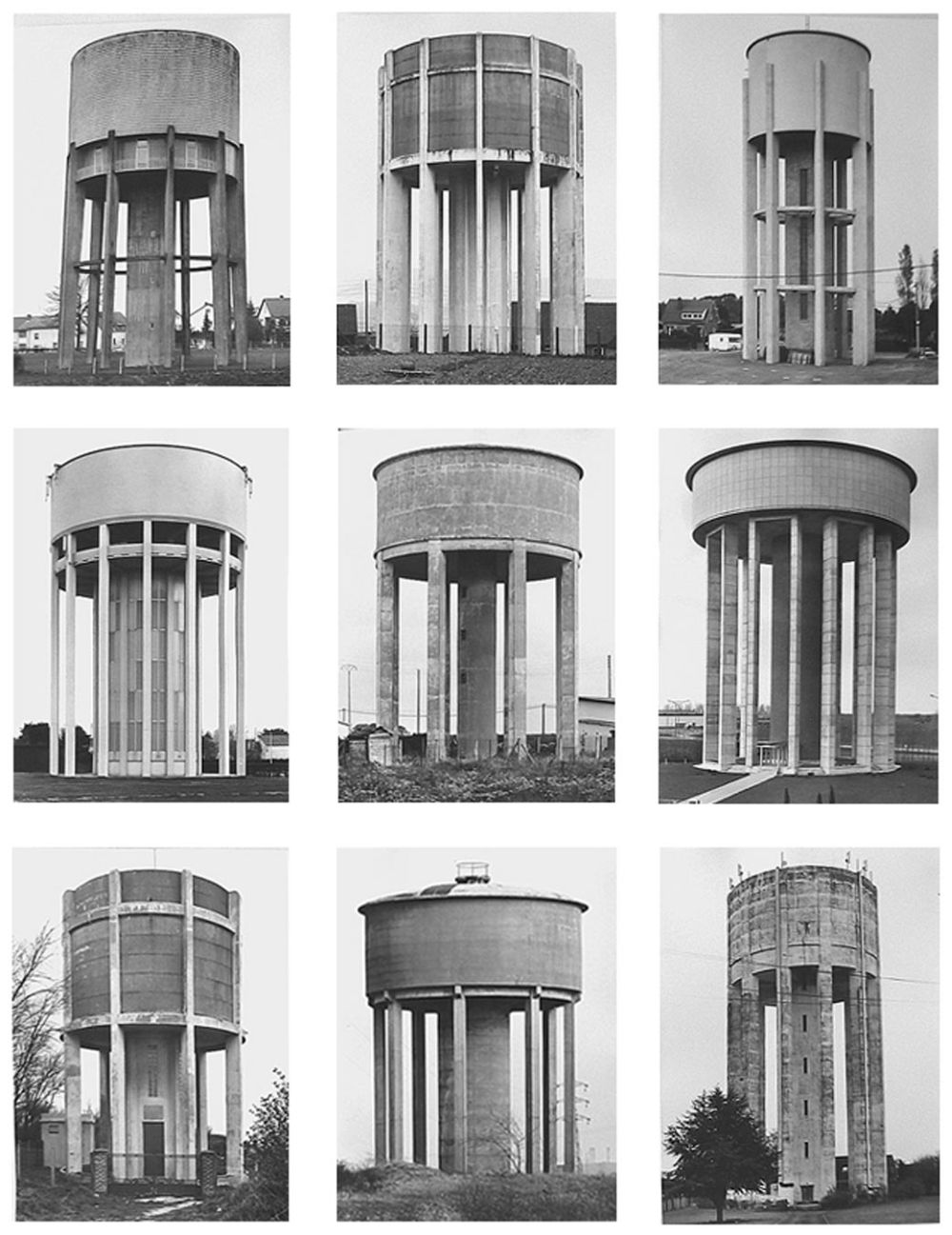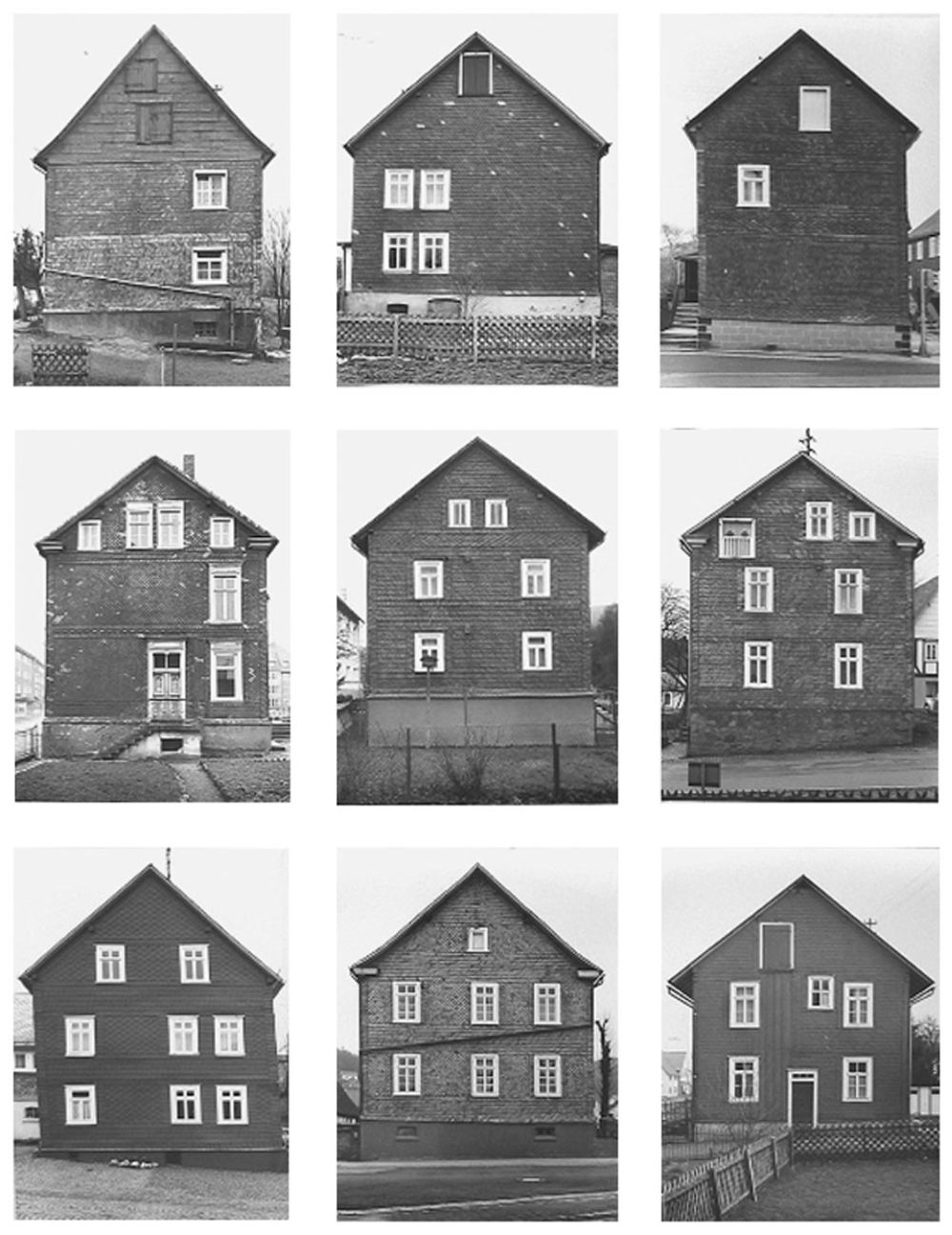 In 1976, Bernd Becher started teaching photography at the Kunstakademie Düsseldorf (policy matters prevented Hilla's simultaneous appointment), where he remained on the faculty until 1996. Before him, photography had been excluded from what was largely a school for painters. He influenced students that later made a name for themselves in the photography world. Former students of Bernd's included Andreas Gursky, Thomas Struth, Candida Höfer, Axel Hütte and Elger Esser. Bernd died in Rostock.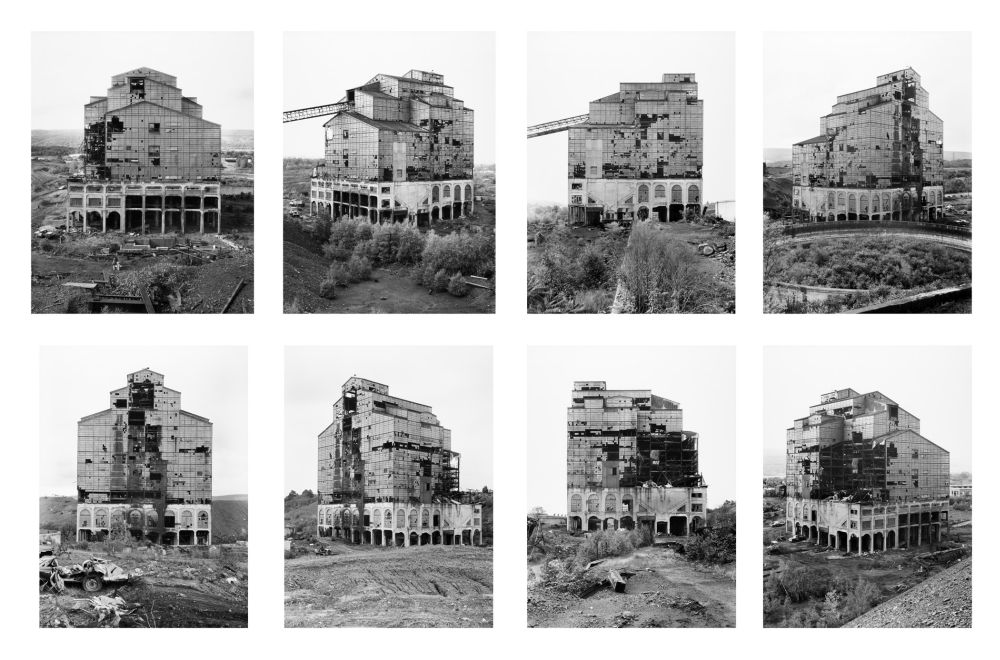 After Bernd Becher's death, his widow Hilla continued to reassemble their works, mostly using existing photographs.